Popular Walking Trails
Waukewan Highlands, Meredith:
A multi-use managed forest offers 3 marked trails which lead to a 3-acre pond.
Chamberlain-Reynolds Memorial Forest, Center Harbor:
Located just off Rt. 3 in Center Harbor, offering a short walk to "On Golden Pond".
Frederick & Paula Anna Markus Wildlife Sanctuary:
200 acres on the north shore of Lake Winnipesaukee with two miles of walking trails. Co-located with the Loon Center and open dawn to dusk daily. 183 Lee's Mills Rd., Moultonborough.
Hamlin Recreation & Conservation Area:
Beaver Ponds, Heron Rookery, Stone Walls, Cellar Holes, Hemlock Forest, High View Ledges, Ancient Maple Grove, 2000 feet of unspoiled Lake Wicwas shoreline. Rte. 104 to Meredith Center Rd. go south 1 mile, turn right on Chemung Rd., go west 2 miles and pull into parking area on right (or park on side of road).
Laverack Nature Trail:
This scenic, off-road, pedestrian trail features observation areas and descriptive signage. The universally accessible .06 mile pedestrian trail can be accessed behind Meredith Village Savings Bank. For people driving to the trail, it can be accessed from Prescott Park behind the tennis courts. The trail's boardwalk stretches from behind the bank through the scenic wetlands and joins a wooded trail that winds up at Prescott Park. This unique trail has educational components and is a connector to Prescott Park, the Inter-Lakes School campus, the Community Center, and the town. EASY/ PETS PERMITTED
Swasey Park:
In 2016, the GREATER MEREDITH PROGRAM participated in a charette with the Meredith Parks & Recreation Dept. to bring Swasey Park back to life and make it more useable for people to enjoy. Located on High Street in Meredith Village, just a short walk from Main Street, this hidden gem encompasses 7 acres and includes 6 trails totaling 1 mile. The park also offers a waterfront canoe and kayak landing on the historic Waukewan Canal. It's a great place to explore nature and enjoy a picnic. EASY/PETS PERMITTED
Popular Hikes
West Rattlesnake Mountain, Holderness:
.9 miles to summit, spectacular view, ledges - use caution with kids. From Meredith take Rt. 3 North to Holderness. Turn right on Rt. 113 and go approx. 5.7 miles. Look for sign for Rockywold Deephaven Camps on right. parking is .5 past sign on left. Rattlesnake trail is on opposite side of road at base of knoll.
Red Hill, Center Harbor:
1.7 miles to the summit, which offers wonderful lake views of Squam and Winnipesaukee
Mount Major, Alton:
1.5 miles to the summit, offering a panoramic view of Lake Winnipesaukee
Mount Morgan, Sandwich:
1.5 miles to the summit, which connects to Mount Webster and Mount Percival
Gunstock Mountain, Gilford:
Overlook Trail is blazed in orange and utilizes some of the cross-country ski trails to start. Then the trail crosses the brook, climbs the mountain and comes out to a fantastic overlook. From the overlook the trail goes through a beautiful forest and then climbs up to intersect with the Saddle Trail. From this trail you can either go to the summits of Belknap and Gunstock, or come down the Brook Trail.
Castle in the CloudsTry some or all of the 28 miles of hiking trails maintained by the Lakes Region Conservation Trust. Take a leisurely walk along cascading waterfalls, ending at the largest waterfall, Falls of Song, or opt for a more experienced hike to take in amazing views of the Ossipee Mountains. With over 5200 acres and trails of all variations, you can spend the day hiking with the entire family!
Trails heads are located at Shannon Pond or off Route 171, located just south/east of the front gate. Hiker parking is located atop Ossipee Park Road across from the entrance to the Bottling Plant, as well on Route 171 at the trail head. Guests can visit the Gift Shop to purchase trail maps.
Page Pond Community Forest:
This loop trail is good for all skill levels. Encompassing a total of 817 acres that includes 7 trails totaling over 10 miles, there are two trailheads that provide access located at Quarry Rd. and Barnard Ridge Road. The trail offers several activity options and is accessible year-round. Highlights include the historic Dudley Leavitt Cemetery, an 1830's dam and active beaver ponds. EASY/ MODERATE/ PETS PERMITTED
Meredith Community Forest:
Located off Jenness Hill Road., the community forest encompasses 186 acres including 3 trails totaling 4 miles that provide excellent hiking, snowshoeing, and wildlife viewing very close to downtown Meredith. Highlights include a small waterfall, wetlands, and active beaver ponds. EASY/ MODERATE/ PETS PERMITTED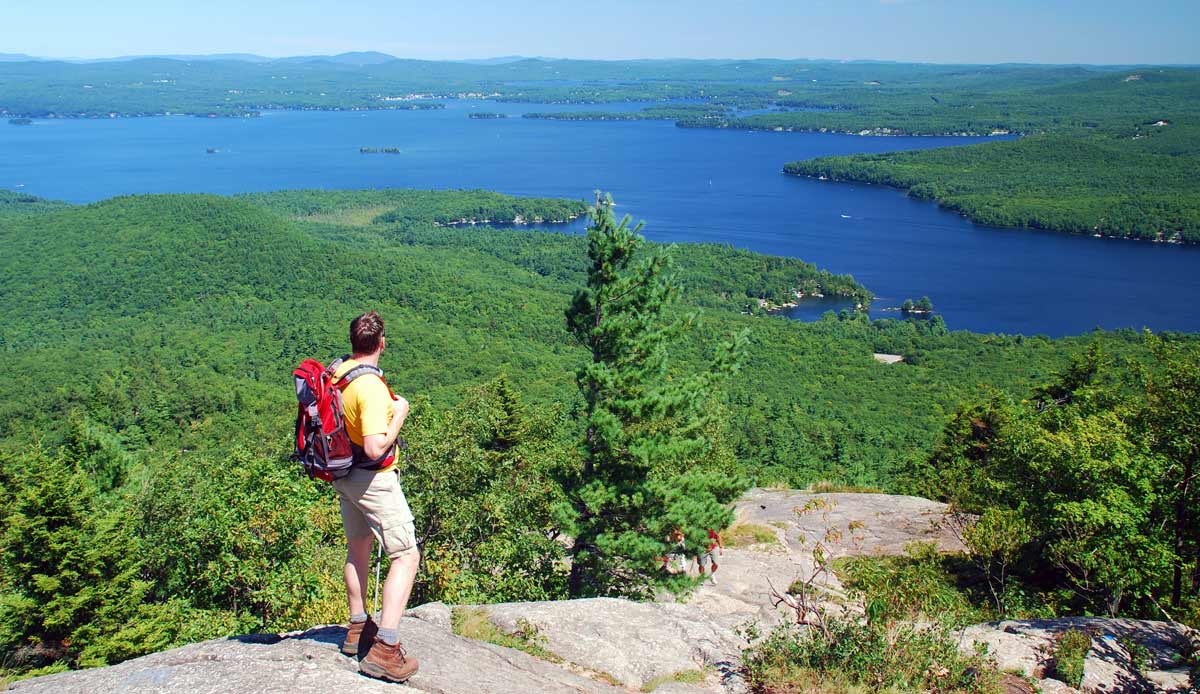 Lake Winnipesaukee from Mt. Major